SCHOOL
KenBridge School has always stood for and promoted the principle of a high academic level of excellence which has supported us in leaving an indelible mark on the society, of which we are an integral part. The high academic levels, coupled with the extra and co-curricular activities, create an impressive individual who can face the formidable challenges of the outside world with panache. Furthermore, the school spares no expenses to supplement learning and apart from enhancing the skills of a student the school offers extensive playfields for physical growth. Students are encouraged to play a wide variety of sports like football, hockey, cricket, basketball, table tennis, badminton, chess. Other activities like debating, dramatics, elocution, quizzing, music, school band, N.C.C, SCOUTS ARE ALSO ORGANIZED. This mingling of passion and commitment works wonders for the students and transforms them into knowledgeable and well informed youngsters ready and eager to take the challenges head on!
KINDERGARTEN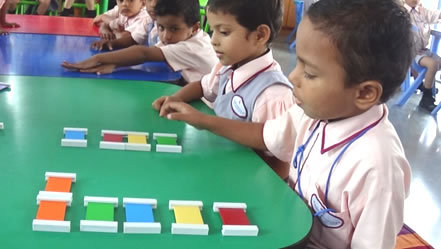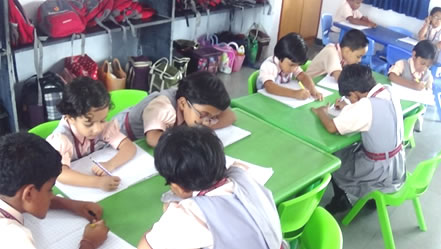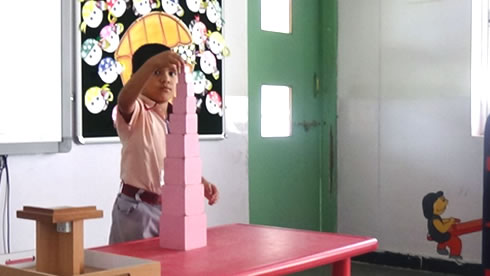 "The stronger the start,the greater the finish"
KenBridge School provides children an easy transition into the formal schooling environment, by enabling them to learn independently while working with their peers. We at KenBridge School strive to facilitate children to handle any type of teaching method with utmost confidence.
Our methods are predominantly based on an indoor and outdoor play towards the development of cognitive skills as well as gross and fine motor abilities.
Children are guided in finding their identity and developing a sense of security.
The joy of learning at KenBridge begins with a unique, child-safe and child-friendly space and ambiance. An appropriate environment in terms of culture, values, affection, and security which will help the psycho-social, emotional and spiritual growth of the child.
The language curriculum is quite different from a traditional preschool curriculum. Here the child learns the sounds of letters in a systematic, progressive way and then blend the letters to form a word. Every word is identifiable with an object so the child can feel, understand and match the abstract word to a concrete.
Field trips are essential to a young child's educational experience. When children actively observe, learn and participate in educational activities during field trips, they strengthen the absorption of the information, understanding of concepts learned, cognitive abilities and critical thinking skills.
PRIMARY
Social interaction coupled with taking responsibility – Moving in the direction of Self Discipline.
The Primary School, Grades 1 to V, challenges the learners with a broader curriculum; It lays the foundation for the Middle School Academic program. Study skills are honed, concepts taught are thoroughly grounded – group work and interaction with classmates cater to growing social awareness.
Resourcefulness and commitment to work are encouraged. Induction into the House system helps them to learn loyalty. Use of the well-stacked library for project work enhances the habits of self-study. The spectrum of extracurricular activities gives scope for talents to surface in Dramatics, Music, Art, Dancing, Games, and Sports. Each student's talent is channelized in a range of hobby clubs. Field trips and excursions are organized. Tests and examinations now become a part of the assessment methodology and parents are kept apprised of the child's academic progress and are provided a frequent opportunity to interact with teachers to assess the development.